Catherine Bell: Beauty Secrets from the Star of "Army Wives"

By: Cindy PearlmanDecember 1, 2011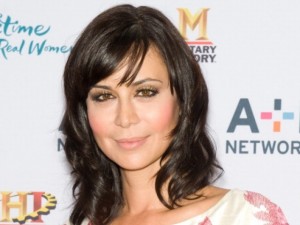 Catherine Bell is a screen beauty with a down-to-earth attitude about aging.
Ask her about it and she cries, "Right now, I'm sitting in a massaging chair where I was waiting for you to call. It felt so good, I almost fell asleep."
That's what you get from being in your 40s and a busy working mom of two active kids.
Ask about birthday candles and she says, "I notice the fine lines now. I see a little skin hanging there and think, 'What's happening here?'
"My advice is the only time you should use a magnifying mirror is when you tweeze your eyebrows!'"
CATHERINE BELL BEAUTY SECRETS
Bell is one of the beauties of the small screen.
She starred as Lt. Col Sarah "Mac" MacKenzie on the TV series "JAG." She plays Denise Sherwood on the series "Army Wives." And her current project is TNT's upcoming and much awaited "Good Morning Killer" based on the mystery novel by April Smith.
Bell plays FBI Special Agent Ana Gray, an undercover operative tracking down a serial killer. She bonds with the kidnapper's latest victim and the suspect suddenly changes his pattern. It's a race to stop him from killing again. The film also co-stars Cole Hauser and William Devane.
It airs Tues, December 13 at 9 p.m. EST.
"I've never played an FBI agent," Bell says of why she loved the role. "I also loved that she's not a superhero. In fact, she's quite flawed. She's a bit dark and gets into bad relationships.
"It's interesting because all of us have flaws and problems," she says. "I think women will really identify."
Yes, Bell does a love scene in the film – and she insists that's always a nerve wracking moment. "It depends on the love scene and exactly what I have to do and what's showing," she says. "It's the build up to the scene that's hard because you're so nervous and joking around."
She says she goes into love scene training. "No pizza. I eat better for a few weeks before a love scene and I really workout."
As for beauty secrets, Bell says that her core program is simple.
"I eat well. I drink a lot of water and take vitamins. Nothing crazy," she insists. "I just take care of myself as much as possible.
"I also try a lot of different products, but I gravitate towards the organic ones you find in health food stores," she says.
CATHERINE BELL MAKEUP TIPS
"I'm blessed with really great skin. My mother is Persian, so we have good skin. But I do want to share one great makeup tip that costs practically nothing.
"I'm a Maybelline girl. I love their eye makeup remover and their mascara," she says. The mascara has all these great shaped wands that really make application super easy."
She keeps her body in shape with the help of a trainer. "I need a trainer because otherwise I can be lazy," she admits. "If you're not getting the gym and need help, I suggest finding a buddy or a trainer to work with you."
She doesn't run, but does "more Pilates and weights than cardio.
"I do try to take a walk each day with my daughter outside," she says. "If you put me on a treadmill, I'm only doing 20 minutes. Walking outside is better and I'll go longer."
CATHERINE AT HOME
Bell, 43, was born in London, but moved to California with her mother who is Iranian at age 2. She studied biology at UCLA, but dropped out to model in Japan. She's as busy mom to Gemma, 8, and toddler Ronan.
She says the kids don't care if she's a big star.
"They're more like, 'Is that mac and cheese done yet?' Those are real priorities," she says with a laugh.
http://style.lifegoesstrong.com/catherine-bell-beauty-secrets-star-army-wives